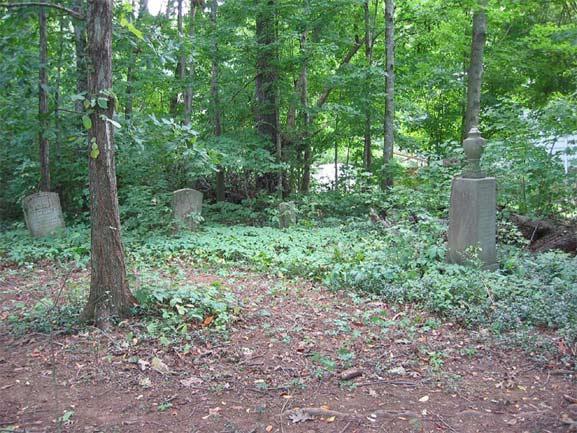 Clingan Family Cemetary
3400 Georgetown Road NW, Cleveland, Bradley County, Tennessee
Margie Cowan provides these photos and a description of the cemetary. Margie writes, "This cemetery is hard to find. The cemetery is in a little clump of woods directly across from the old Wattabarger farmhouse, which was the location of the old Clingan farm house. The Wattabarger farmhouse is a 1930s looking brick farmhouse. Coming off the interstate (heading south from Knoxville to Chattanooga) at exit 25, exit to the right onto Hwy 60 (north). If you get to the school on the left side of the road or the church (on the right) across the street from the school and up on the hill, you've just passed it. Turn around, look for the farmhouse, make a U to the other side of the road and park on the side of the road. The cemetery is relatively well maintained and, obviously, in a clump of trees (narrow strip of woods) ... directly across from the Wattabarger farmhouse. Of the 10 graves transcribed in the cemetary book, I found 7 including - Alexander and Martha Clingan's."
---
Visit Margie Cowan's page at - Findagrave.com - for photos of other stones located in this plot.
Map below shows location of the Clingan Family Cemetary in Cleveland, TN.