Curtis and Ola Williams were residents of Wagoner for many years. Members of the First Christian Church and owners of the Williams Log Cabin service station at 110 South State street; they were both well-known and respected early members of this community.
Curtis's parents­Charlie and Etta [Hedrick] Williams, first moved to Cherokee Indian Territory (eastern Oklahoma) around 1902. Newly married in Missouri, they were looking for a prime location to farm and raise a family.
Their third son Curtis Williams was born December 31, 1906 just north of Gore near the Illinois river where they rented farmland. Curtis would eventually have seven brothers, but only one sister, who died as an infant.
Curtis received a sixth grade education; which at that time, he personally thought was more than enough. A young boy after all, needed time to fish the nearby crystal clear river whenever he could get out of chores or working the fields.
In 1924 the Williams family uprooted and purchased farmland just east of Wagoner along the Grand River bottomlands. Curtis was 18. Here he met Ola Foutch­daughter of Willy and Effie Foutch who had moved to the same area from Illinois years earlier.
Born December 18, 1907; Ola was raised in this area and attended school at the Riverside schoolhouse near the Grand River.
Although they never spoke much of their early relationship, it's a good bet they probably met and often danced at the local dances that Curtis often rode to on his mule or horse. Also, they both liked to fish!
With so much in common, Curtis and Ola married on August 19, 1933 ­ right during the early part of the depression. A year after their marriage; during a miserable hot summer, their first son Roy Lee Williams was born. It was six years before they had their second son ­ David Williams.
To make a living, they first farmed and raised everything they could eat. Curtis bought a dump-truck; an old-time contraption with no modern conveniences such as heat, that he "hired out in" to do such things as hauling rock fill for the bridge at Taylor's Ferry. They later ran a grocery store on S.E. 11th before finally purchasing a local service station and car wash on State street.
Always a hard worker, Curtis encouraged this ethic to his sons who he often told, "You gotta get it when the gettin' is good."
Curtis was a quiet, tall, lean man who; till he had to give it up, smoked a pipe and chewed tobacco. Called "Slim" by his friends, he was tight with his money, trusted for his word and always ready for a good laugh with all the old-timers who hung around "shootin the breeze" at his place of business.
In business, he and Ola extended credit to many loyal customers. And while Curtis considered himself more than fair, nothing riled him quicker than someone purposely trying to beat him out of a dollar.
Aside from business, Curtis and Ola made their home for many years on a small farm outside the considered boundaries of Wagoner on what is today ­ 1204 S.E. 10th. Later in their lives, they often sat outside in the late evenings, watching "Curtis's rabbits" feeding in the open pasture. And although the cows and chickens gave way to the town growing around them, the garden remained for many years as a source of family substinance.
During tornado season, neighbors and grown sons' families were quick to run for shelter in Curtis and Ola's "cellar" next to the smokehouse, where they squeezed in among all the canned goods stored there by Ola.
Ola not only canned, but made the best pumpkin (she later admitted it was yam) pie.
Eventually Curtis sold the business to his sons Roy and David and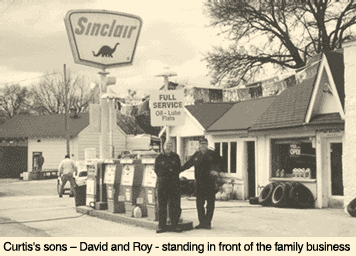 he retired to spend a good deal of time napping, fishing and grumbling about mowing his large yard; which in truth he loved to do and continued doing so ­ well past when his wife thought he should.
And for years he mowed and worked around the Pioneer cemetery where many family gravesites of Curtis and Ola's relatives lie; oftentimes taking his grandsons on these outings, who he knew loved to ride the tractor and share time with their granddad.
Both Curtis and Ola are gone now. They are buried together at the Pioneer cemetery near the area where both grew up.
They not only left indelible tracks in Wagoner's history, they left many memories and instilled values which will be with their sons, grandchildren and family for many years to come.


Williams Family History

Dan's Home Page