?


Williams History of a Williams family from the early 1800's, starting in Tennessee, moving into Missouri after the Indian Wars and into Oklahoma Indian Territory around 1901.

Norman History of a Norman family through the Civil War in Tennessee; and then life in Oklahoma Indian Territory.

Email Dan

?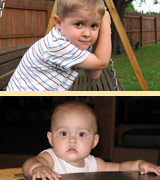 Grandchildren Tyler and Rachael.
Completely different as can be.
Visit
"Fishing
Williams Style"
At Our First House
Carla's Website (old)
My Work Portfolio

Search Entire Site!