These exerpts are from a book journal that I'm keeping for my boys in hopes they'll look back and see that we actually did have a lot of fun times in-between grueling chores, monotonous schoolwork, and all those repetitious chewings they took from "Dad". Of course if it helps in our future fishing success, so much the better.
I'll be honest. I've not included here the all-too-many unsuccessful fishing days, the days we decided to just swim, or the days when the weather sent us packing. It's not the stories you'll see written by guides and professional fishermen...
it's simply the way this family fishes here in Oklahoma.

---
Nov. 23-02 - Skiatook
Kyle, his friend Morris and I fished for hybrids at Skiatook. I had promised Kyle a birthday fishing trip to the lake of his choice, as long as it was Skiatook or Keystone, and I preferred Skiatook.
Lake was clear, low 5 foot. The day warmed up nicely. I hung one big hybrid in 28 ft of water just off the main point out of Tall chief cove. Using large shiners, as shad are hard to find in this lake, we fished on the west side of the dropoff. Lost the Hybrid, but caught 2 really nice crappie. Morris introduced Kyle to the Yo-yo method of fishing. You hang this contraption on the side of the boat and it pulls the fish in. WARNING! The fish better be little and not a hybrid.
---
April 26, Chouteau Bend
It's the weekend. Carla, Jared and I tried "the Bend."
Weather was perfect. We trolled through the shallows to within thirty yards of the low-water dam. We fished in about 6 foot of water in an eddy and on top of an underwater sand bar. By casting and dragging minnows, we caught around 75 sandies. Almost all were medium sized males. Fishermen say the big females are still to come upstream and are staging in creek-mouths like Mazie Landing.
We even caught a couple of big carp on minnows. Everyone else around was using jigs with little success.
Minnows only today!
Big spoonbill are still being snagged up and down the river and we've seen some huge ones hanging on the sides of boats.
Kyle would've been with us today, but he started his work career at Riddle Plant Farm!
---
May 2, Chouteau Bend
Carla and I took the Friday off to fish. The Bend was full of swift water. I couldn't anchor the boat at the dam as it was too swift, so we spent most of the day drifting. Caught around 15 sandies, none real big.
We put on a real show for a crowd while trying to trailer the boat in the swift water. I couldn't line up on the trailer to save my soul, then Carla almost backed the Explorer in the river. We left laughing, but we left in a hurry after that embarrassing spectacle!
---
May 3, Keystone, water 66 degrees.
Jared, Carla and I took the boat to Keystone on this Saturday looking for crappie. The sky looked dark and ready to pour rain all day.
We first tried Salt Creek North with no luck. The crappie spawn has been really slow there. Perhaps because the lake is up about four feet.
We then went to dry lake and fished on the far end of that area in about 8 feet of water. The water was murky but we still managed to catch a variety of fish using large shiners.
Carla caught a two pound channel cat that we released, but then she hung a fifteen pound blue cat that ran with her line for quite a while. She valiantly hung on and brought this thirty inch bad boy to the boat where we netted him.
Carla didn't sleep last night. She claimed it was the excitement of the catch, but I suspect it was the nagging memory of her catfish disgorging a half digested fish onto the floor at her feet. Looked like about a nine inch sandie.
We had a great time fishing, but Carla set a standard that'll be hard for Jared, and perhaps I, to ever beat!
---
May 17, 2003, Keystone
No wind and lots of muddy water, but we still fished late into this Saturday night in Dry Lake. Poor Kyle was at work!
Early in the evening we had located shad near the middle section on the rocky north side of the cove. Lots of little sandies were chasing them across the top. I also snagged someone's broken line and pulled in a good sandy that still had the jig hanging in his mouth.
After dark, we settled into the back end of this cove where Carla and Jared caught several cats on large shiners. The biggest, which was caught by Carla of course, weighed around 2 pounds. Jared had several fish where he hollered "GET THE NET". But apparently the smaller fish are just fighting a little better in this warmer water. Still as Jared knows, every fish could be that 16 pounder needed to beat Carla and you need to be prepared.
---
May 23-26, Memorial Weekend, Keystone
A weekend to remember. Lake is up about 6 foot, muddy and around 71 degrees. Not much wind but the cloudy skies kept the crowd home most of the weekend. Friday night Carla, Jared and I trolled around the highway 64 bridge. Lots of people standing on the rip-rap, but showing no action. Tried fishing on the shallow shore bank of Dry Lake with no results. Too calm. No fish.
Saturday, Carla and I tried fishing the point just north of Salt Creek. Because we were catching a few fish, we put up with a neighboring boater peeing into the water every 5 minutes. He gave us a thumb's up every time we pulled a small fish in. No wind this night and lots of lightning back to our south, but we did manage to catch maybe a half dozen fish of various species and sizes before calling it a night.
Jared was impressed enough with our tales of fishing that he went with us Sunday. We started near midday. It was a cool day but the clouds would occasionally clear and we'd shed our jackets. About an hour before sunset, the fishing started to heat up! By 10:30 that night, and after an emergency trip to the marina for more bait, we had caught around 50 sandies, many of them large.
Carla would not willingly leave! We stayed so long that I had to switch batteries because we had run the aerators too long.
We brought home around 18 of the largest fish. Jared thought this to be the best fishing trip ever, even though he didn't beat Mom's record fish, or even our neighbor's number of fish for one trip.
Now even Kyle was impressed. Monday we all went. We had to wait in line to launch the boat at Mannford's 3-car ramp. Because the skies were clear, boats and jet-skies were everywhere.
When we reached our destination and anchored, a boater trolled up to us and asked us to leave the area because "he was trolling it". Ruined the mood but we stayed on the spot in spite of the rude fella. We eventually left to eat hotdogs on an ant-infested sandy bank up the cimmaron hoping the troller would leave while we were gone. When we returned thirty minutes later the trollee had lost interest and had moved to a different area.
About dark the fish started to bite there. We caught around 15 to 20 sandies with Jared catching the biggest - a drum weighing maybe 3 pounds. Bite that, Mr. Troller!
---
June 7, Birch Lake
The four of us headed to Birch Lake up near Barnsdall to try trolling. It was cloudy with a little wind from the north. Shortly after launching the boat and while trolling a large silver Redfin lure, I caught a bass that weighed around 3 pounds. Kyle couldn't believe a bass would hit a lure that big. Unfortunately, that was the only fish caught. Bad weather forced us off the lake.

p.s. Carla broke her second rod this week. She's now going with a stout "Ugly Stick!"
(disclaimer: Lord knows I've broken my share)
---
Fri. June 20, Keystone
We started around 7:30 p.m., had a light wind from the south, the water was about 80 degrees and pretty clean for once. We caught some large shad just west of the point near the oil well then trolled west to a favorite underwater point where I noticed fish movement on the locator and lots of shad. We stopped in about 22 foot of water and immediately got into the striper. I caught two 4 1/2 pounders but we both lost a lot of fish. I don't know if it was the large shad or if the fish were just grabbing the bait by the tail, but we couldn't get them to hook solid.
The fishing seemed to die about sundown.
---
June 22, Keystone
Brought Mom with us to the spot we caught fish yesterday, and dang if she didn't hook a seven pounder. Screeching and reeling at the same time, she hung on until the fish tired of pulling her line out. Using the cheapest reel in the boat and one that Jared had discarded, she managed to eventually pull the fish close enough to be netted, thereby making Jared's old striper record obsolete. Yiiiiiiiiii!
After we took pictures and released the fish, she proceeded to catch a four pounder. Carla, Mom and I probably caught a total of eight or nine fish, most of them good size. This night we used large shiners and it seemed that the fish were hooked better than when we used the large shad.
Fishing slowed again around dark.
As we headed back to the dock, we noticed lots of boaters fishing for crappie below Mannford bridge. It looked like a lighted community under the bridge.
---
June 23, Keystone Strong wind from the south, heavy overcast, water 79 degrees and fairly clear. Lots of boaters out today.
We tried the point where we've had pretty good luck lately. About 4:00 pm the stripers hit us. We were all catching fish at the same time. We had probably caught around fifteen fish, the bigger ones around 3 pounds, when it all suddenly ended.
The skies had cleared as a weather front moved through and fishing was basically over. No new records for the boys today.
---
July 12, Keystone,water 83.3 degrees
The wind has shifted from the north for a rare change. A front with rain is moving in. Carla, Jared, Mom and I tried sand bass fishing late this evening at the mouth of the Cimarron since fishing at out previous lucky spot has been off lately. Fishing on the north side of the point in seven foot of water, (just off the break from four foot of water) we caught a dozen or so sandies, small channel cat and striper. Today's fish were all caught on shad that we had netted back up the river. We actually ran out of shad about 10 pm.
Carla of course, claimed "most fish".
Kyle called his grandmother, "good luck".
---
July 13, Fort Gibson Dam
Carla spent time with her grandson Tyler and the guys went fishing. Actually, we went wading as it was terribly hot. The turbines were fortunately running, but "Uncle" Aaron was the only one to catch anything. Three small ones. "Mr Crappie" at the bait shop told us to try fishing after the turbines stopped running as the sandies would run back downstream as the water dropped. We did as suggested. When the turbines stopped, fishermen flocked to the water, but we saw very little action.
One guy said we should have been there when they started the turbines.
Who knows?
---
July 16, Keystone,
water 83.4 degrees, slight wind, lake down 1 ft.
The big shad were thick at the oil-well point, the small shad were in shallow coves of the cimarron. I hoped to catch some in the cast-net.
Cast twenty times-nothing.
Cast one more time and caught at least 200 which I promptly dumped in the general direction of the bucket that Jared held. I told Carla that half the fun of fishing was finding and netting the bait. Jared was busy at the time spitting out the shad juice that had splattered all over him or else I believe he would've agreed.
We later baited our hooks with these small shad and fished a couple of areas on the point at the mouth of the Cimarron. Carla caught our only three fish. A sandy, a striper and a cat. All caught in about 5 or 6 feet of water near the drop-off to deeper water.
However, I must state that Carla fished two poles which she resented me doing when she only owned one pole.
Yes ­ Jared and I got skunked. But we had a lot of bites. They just wouldn't hold on when us big guys yanked!
---
July 19-21, Keystone, water 84 degrees, lake down 2 feet.
Not much exciting happening this weekend. I did manage to fall off the boat when trying to step into what I thought was shallow water. Pretty funny for Carla, but my hand sure smarted from where it scraped a cleat.
Actually she didn't laugh too long because I later stepped on her hand when I tripped on the ice chest. Our boat is definitely too little! Especially the way Carla packs for the lake. Food, drinks, towels, lotions, extra apparel...
But back to fishing.
Small sandies and cats are around the windy banks chasing shad. It's been 100 degrees or more the last few days and the bigger fish have moved deep to cooler temperatures. Large striper caught now should be kept for the table as they will likely die when released (according to tests). Big stripers reportedly go off their feed when water gets over 77 degrees and Keystone doesn't stratify well, meaning that the water is probably not much cooler down deep. Striper fishing really looks as if it may be over until late September or October for this lake.
Carla took the boat out for the first time without me this Sunday. She reportedly had no troubles. She and Jared got the opportunity to fish their style (caught a few small ones) while I enjoyed the cold home air.
Kyle spent the night at Morris's grandmother's house where he and Morris caught some catfish from a nearby pond.
---
July 25, Keystone
Marked fish in Dry Lake near the bank in twenty foot of water south of the dock. They wouldn't bite, but then maybe again they were carp. My locator and experience isn't nearly good enough to tell the difference.
I managed to tear up Jared's net this day. But Kyle sewed it up for himself to keep. I bought Jared a new one. And one for me. Three and a half foot cast nets for everyone! Except for Carla, and that's probably coming soon. Ha Ha!
These small nets are a lot easier to throw than the five footer that I usually throw. Actually tossed a rod out of the boat one time when it became entangled in that big net. And more than once I've almost fell out of the boat heaving that thing.
It's not good to fall out of the boat especially in the dead of winter!
---
July 31, Keystone Dam, 2 turbines open.
Boys and I fished on the south side, just below the riprap and right outside the current. Using shad that Jared netted, we caught a bunch of dink sandies. I gut-hooked a couple of these fish, so I switched to a circle hook as I had heard that these hooks are less susceptible to killing a fish. It worked! I only hooked the fish by their lips after that.
Also, Kyle somehow hooked himself in the back on this day. While he was worried it might be serious, it wasn't­ it just broke the skin!
Maybe Kyle should start using circle hooks.
---
Aug 2, Skiatook, water 81 degrees and very clear, wind from the east.
It stormed last night and the hard rains caused us to get a late start this morning. Kyle, his buddy Morris and I got to the lake about 11am. Skiatook water clarity was about four and a half feet. It's a beautiful lake and a splendid morning.
I found hybrids pretty quickly in a cove near Dad's Creek. Trolling close to a steep shore bank in 25 foot of water, my locator suddenly showed "marks" flying everywhere. I hollered at the boys, "get your poles in!" Then, by yo-yoing a heavy jigging spoon near the bottom, I hooked and pulled up two small hybrids. At the same time, Morris used a silver spoon to catch a couple, one of which was good sized. These fish were feeding from top to bottom in the clear water and you could see them swirling the top chasing bait.
Then it ended. Kyle didn't even have time to get the right lure on his pole. The fish were still there, you could see them on the locator, but they weren't chasing bait any longer. Within 15 minutes or so, they totally disappeared.
An hour later the "lake lice" came out. Jet skis everywhere, stirring the lake, making a racket that could only be twice as loud underwater. Small wonder we couldn't find any more action.
Because we were starting to get hot and frustrated, we changed tactics and tried fishing below the highway bridge for crappie. Nothing biting. Even the perch floating around the pylons near the surface refused our bait. No wonder we were the only ones fishing there.
At least the shade felt good.
---
Aug. 8, Thurs., Arkansas River
It rained again this morning and the dam had two turbines running water.
Kyle and I went wading this evening about a mile below the dam where we think his coach fishes.
Coach Anderson is awfully tight-lipped.
But we've fished this location years before and caught a few cats and small stripers, so maybe Coach will forgive us for fishing his secret spot.
I'll call this location the "slick flat rock fishing spot" because you have to walk a quarter mile across flat and dangerously slick moss-covered rocks to reach where the current flows into the main river. You also have to watch for quickly rising water when the dam is opened. And it does rise quick!
Kyle tripped just shortly after we entered the water and soaked his "canvas" fishing bag, but we made it to the rapids.
Later, while standing waist-deep in the calmer waters below the rapids, we both got good hits, but never succeeded in pulling in a fish. Once I felt like I'd hung a good striped bass, but he didn't hook solid and soon pulled free. I knew that my hook was a little dull from being previously hung on rocks, but my tackle box was sitting quite a ways back on the rocks.
The sunset was great, the water felt good and we left the river feeling the location has a lot of potential, but what I really mean is, "We'll see you there in the spring Coach!"
---
Aug. 9, Keystone, water 86 degrees, lake down one foot
We've had unusual rain activity for August and fairly cool weather. Carla and I trolled the Appalachia Bay area this evening and caught some smallish sandies. We even caught, using shad for bait, a number of small catfish in about 4 foot of water.
There are a lot of big gar up past the main point and up the river from Appalachia Bay and they are apparently spawning.
We also motored up the Cimarron this evening just looking around. There are a lot of interesting coves but the river itself has a flat bottom with no prominent features and gets shallow relatively fast. In spring, even if the water isn't muddy as it usually is, it would be hard to find spots that would attract and hold groups of fish. But then again, those coves could be full of pre-spawn stripers in the spring.
Later, near dark, we fished the shallow point at the Cimarron river mouth where a big boat, trimmed nose-high in the air and throwing a big wake, nearly swamped us. After he plowed by us he naively drove into the rocky shallows and chopped the bottom up pretty good with his prop.
I'm afraid I was still grinning as the boat with it's now embarrassed occupants turned and slowly limped back by us on their way home.
---
Aug. 10, Sunday, Skiatook, WOW, water 82 degrees & clear to 4 feet, no wind
Jared and I got up at 6 am and ventured to the "Dead Sea" looking for Hybrids, or what is known locally as Wipers, a cross between a white bass (sandie) and a striper. Being about my sixth attempt at Skiatook for hybrid, I wasn't very optimistic, especially since it's the middle of summer and fishing has been typically slow.
There were just a few fishermen on the water when we left the boat-ramp. All the jet-skies and pleasure boats were parked in the nearby cove, their owners still asleep in their tents.
For about an hour, we searched underwater points and steep drop-offs with the locator and occasionally dropped a 2-ounce Prune-picker spoon to check for hungry fish. Jared managed to catch one of the many small hybrid that could be seen chasing bait across the water's still surface.
We moved on to a tree-filled cove and slowly trolled into the partially submerged trees over an old creek channel.
Just as we moved past the first standing tree, the biggest fish arcs I've seen in a long while appeared on the locator. We were in 36 foot of water and the fish were about 10 feet from the bottom. I told Jared to get his pole and I dropped my Prune-picker to the bottom. I raised the rod, then let the lure flutter slowly down. I repeated this action and my line went limp as I lowered the rod.
I yanked, and the pole was just about jerked out of my hands!
Smokin' drag!
After several minutes, and with my heart pumping ninety miles an hour, I got my fish to the boat where Jared got a net under him.
We were both pumped now! And the big fish were still showing on the locator. Big arcs moving fast!
We hurriedly got our lures in the water and in a matter of seconds we both had fish on, mine actually fighting harder than the one I had already landed. Jared, who was now hanging on for dear life, started hollering, "Get the net!"
My hands were full, but I tried.
I shouldn't have. My line broke, then seconds later Jared's broke. Determined to land "the big one", we both hurriedly tied new lures on our lines and tossed them out again.
Jared hooked and then desperately tried to turn a big one from the nearby trees. His line promptly snapped. Before the action slowed, we also had several good fish that simply pulled off our lines.
Fifteen minutes after it started, the fish were gone! We tried trolling the area, but these fish change locations fast. I suspect they moved out to open water and that the fish had only moved into this cove a little earlier to feed before the glare of the sun set in.
Finding no more hybrids, we left the lake around 10:30 before the heat of the day, but we left grinning and talking about what we could and should have done, and looking forward to showing our five pound, twenty-two inch hybrid to Carla and Kyle... and to brag about it online.
I learned something about fishing for hybrids. A person can probably get away with using 10 pound test line for these hard-fighting fish in the open water, but unless you've got the nerve to let these fish run, you better bring a lot of lures.


When you're sitting dead still in the water and you see fish making "arcs" on the locator, those fish are moving. A fish sitting still or moving slowly below a stationary boat shows as a continuous line.
Hybrids can measure 10-14 inches in a year, 5-7 pounds in 2-3 years; and in 5 years 12 pounds or more, if all goes well.
---
Aug. 16, Skiatook, water 81 degrees, slight wind from south.
Carla, Jared and I went to Skiatook Lake early this morning. It was already warm when we hit the water around 7 am. We tried the usual places with jigging spoons, starting at Dad's Creek Cove and ending up at the narrow mouth to the big ski pond where we had seen several boats fishing previously. We always honor the system of "keeping an eye on the other guys." But on their spot today we marked no fish. No wonder they left it to us.
Sorry to say, I did something today that I'm always worried the boys will do. I dropped a rod overboard. I was casting a large sassy shad when the line apparently wrapped around the tip of my rod. When I tried to cast, the heavy lure whipped around and jerked the rod out of my hand. I could see the butt end of my pole slowly sinking in the clear water, so I jumped in after it. My fingers actually touched the rod but I missed getting a grip on it.
My billfold was soaked, my clothes were wet, and I was disgusted.
We tried snagging for the rod, Jared and Carla even made an attempt to swim and feel for the rod, but it was in 25 feet of water.
Fortunately it was my cheap one. If it had been the good rod and reel that I had bought just a few days earlier, I'd still be looking for it today.
---
Sunday, August 17, Keystone,water 87 degrees, slight wind from south, lake down 2 feet and murky, hot day.
Too hot today for the boys.
Carla and I decided to troll Mud Creek which is up on the north side of the lake and where our neighbor catches quite a few sandies. The name is slightly misleading. Unless we've had unusual amounts of rain, this arm of the lake is usually murky, hardly muddy.
We boated way up into this arm. I noticed the water temp got up to 89 degrees in the far end. Awfully warm for fish, but trolling back I caught a couple of sandies and a flathead catfish that weighed around 2 pounds. The cat didn't jerk and fight like the sandy, instead it felt more like a heavy log pulling slowly back and forth in the water. I actually thought I was hung on bottom at first. This mottle-colored prehistoric looking catfish took my lure when we passed over a shallow rocky area.
The Mud Creek area has a lot to offer Keystone anglers. Everything from deep rocky waters to sandy shallows and lots of points. The shallower, rocky-banked waters in the far end would be great fishing for spawning crappie and then later, for spawning catfish, especially if the water is not muddy as usual in the spring.
I've read that most of these rocky points dropping into deeper water have brush piles that are excellent for crappie fishing. But today, it was just too hot to sit and fish.
As we were leaving, Carla caught a large sandy in the shallow waters on the west side of the cove's entrance. The mouth of this creek is dangerous. Stay to the east of the cove's entrance to avoid the rocky shallow bottom.
Oh yeah...I dropped my good hook remover. What's the deal with me suddenly dropping everything overboard?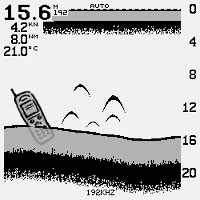 ---
Sept. 1, Labor Day, Skiatook, record amount of rain for the month of August!
We got up at 5 am.
All weekend it had really rained and we desperately wanted to get out of the house. So Jared, Carla and I tried to beat the predicted day's rain and fish Skiatook Lake, stopping only to nourish ourselves with the customary pre-fishing "egg, cheese and bacon" McMuffin.
There were just a couple of boats on the lake this early morning, so we pretty much had the water to ourselves. We moved into the Dad's Creek area and started watching the locator for hybrids along the deep underwater creek bank. I was searching for groups of marks, preferably feeding groups which show on the locator as marks flying in different directions pursuing bait.
We had only located a few unwilling fish during this twilight hour when we saw in the distance, a fog-like rain slowly moving up the lake. Our jackets weren't water proof and we were soon soaked, except for Jared, who had my umbrella and a quilt. He remained both dry and toasty.
There was another boat nearby, also apparently searching for hybrids. The couple had a big umbrella mounted on their boat and they looked considerably more comfortable than a couple of us on our little boat.
We left after about 30 minutes and I made a committment to myself to buy two ponchos before trying to fish in the rain again.
Kyle meanwhile, had spent the night at Morris's and they fished Sahoma Lake on this Labor Day morning. Using some plastic worms he recently acquired, Kyle caught several bass in the weedy shallows including one that he "claimed"- weighed a pound. (He didn't have pictures of course)
Kyle is now a dedicated and somewhat demanding, "worm'n man".
---
Sept. 3, Sahoma, sorry, air 80 degrees
Beautiful evening.
The boys, Morris and Carla caught a few tiny perch. I did some reading.
Unlikely as it seems, this little city lake has been stocked with hybrids several times in an attempt to control the stunted crappie and perch. Unfortunately, during high waters most of these hybrids have gone over the dam, or so I've been told.
This lake has several small 30 foot holes. Eventually I'll have to put a boat on this lake and check it out a little more closely.
---
Sept. 8, Local Pond
First sign of fall­ flocking birds in the back pasture.
Boys headed to the pond over by Morris's this evening. Jared caught and released a couple, including a bass which he said, "...weighed 2 pounds, no matter what Kyle says."
Kyle just smiled.
---
Sept. 11, Keystone Dam
The boys and I made it to the dam today. Carla had gotten up at 4:30 this morning to work a charity event, so she was home catching up on her sleep.
Very few people were on the turbine side today even though both turbines were open. The few sandies being caught were smallish as usual, but a few guys were catching decent blues using shad they tossed far across the current. You have to be an enduring type of fisherman for this is a tough form of fishing. The river has a treacherous rock bottom and many a fishermen has lost a dozen or so of the large weights (4 ounce or more) in just a short time fishing in the strong current. Undoubtedly there are hundreds, if not thousands of pounds of lead lying and accumulating on this river bottom as I don't believe the area ever completely dries up to where the lead can be found.
Jared and Kyle eventually wandered up towards the fence closest to the turbine where the shad were so thick that Jared started catching them by hand. A lot of fishermen. looking for an easy source of bait, net shad here and transport them to their favorite fishing lake.
Kyle in the meantime, was scavenging the bank. He found numerous weights, jigs and useful stuff that fishermen had lost.
Fishing action was slow and didn't look to pick up, so we headed home early. A friendly gentleman fishing the fence, saw us leaving empty-handed. He told us that lots of stripers were being caught at the low-water dam in Tulsa. He quipped, "I just don't like to catch'em."
Kyle and I both wondered why a guy fishing for sand bass wouldn't like to fish for the sand bass's big cousin- the striper.
On the way home I stopped at Woodies Bait & Tackle for some much needed R&R. (In other words, I blew some money on lures I didn't really need.)
---
Sept. 13,14, Keystone,
fishing good, water 76 degrees, lake level normal, murkier than usual.
We got to Keystone early this chilly and damp Saturday morning, trying to beat the rain that was forecast to come. We went with the intentions of looking for striper. After a fruitless effort of fishing various points, I just decided to drift with the heavy south wind using downlines baited with live shad that we dropped to about 25 feet. Wish I could say we got into the striper, but no such luck. The water has cooled into the 70's and the striper have quit their summer pattern. They are scattered all over, with a lot being caught below upper Arkansas River at the Kaw dam. When the water gets colder the striper will begin schooling and become easier to catch.
I did however hang a seven pound "blue" as we drifted out of a tree-filled cove and over the main channel near the Cimarron river mouth.
Yeah, a blue doesn't fight like a striper, but it was fun, it impressed Jared, and it'll sure taste good.
We headed home early and at the Mannford boat-ramp huge flocks of pelicans were wheeling circles in the darkening sky. The big birds knew the rain and hard winds were coming. We left just in time. Heavy winds preceded a cold drizzle that lasted the rest of the day.
Sunday was a different story. The wind had shifted from the northeast, the sun was shining, and fishermen were all wading the points trying to catch sandies. We caught a few ourselves with spinnerbaits, mostly while fishing the windy side of the rocks lining the long jetty that runs north from the oil derrick area. The fish were shallow in this cove and off other points chasing shad in water that's cooled to 76 degrees now. There were huge balls of small shad surfacing in the shallows and sandies were around them. The road cut just across the bay was also full of surfacing shad.
Carla had a nice sandy that I erringly released. Her struggling fish had jabbed a treble hook in her finger. Looking at it bleeding after we removed the hook, I wasn't thinking about the fish and tossed it back. Carla's injury wasn't serious, but the insult of tossing a good keeper fish was unforgivable.
Most fish we caught today were on the small side, but we arrived at midday and the bigger fish would probably be caught at dawn or dusk. We only took four home and we left in the lake a big drum that was caught by, who else...
Kyle.
---
Sept. 21, Keystone,
Fishing is good, wind from east, water temp 73 degrees and murky, barometer rising.
My Mom joined Jared, Carla and I for a fishing trip on a beautiful day. A cool front had moved through, the day was bright and sunny and the barometer was rising, all of which is pleasant, but not exactly conducive to good fishing. We also had a wind from the east. "Wind from the east, fish bite the least," as the saying goes.
We did catch fish though.
Around 5 pm the sky clouded over and the sandies started hitting the surface. The fish we found were far back in the coves, either close to the windy shore or off secondary points. We'd see them hitting the surface, then troll over and by casting spinners we'd usually catch a couple. Then the fish would move and hit the surface somewhere else and the whole cycle would start over! Using rooster tails (with white being the hot color today) we landed 15 or 20 sandies, several of them really nice fish which gave Jared the opportunity to break in a "brand new" rod.
Since the sandies were ignoring shiners, Mom tried her hand at learning to cast spinners. Watch out! Hooks were flying every which way, and she scared me a few times when she bent my expensive rod in half...but she eventually got it down.
Today's hot-spot was the first cove south of the Cimarron river mouth. We went to the far end of this cove where I was surprised to see the water to be 25 feet deep where it makes a final curve to the south. This curve creates a great "point" for sand bass. It has shallows, stumps, sand and it drops off rapidly at its tip.
This cove probably works best for catching sandies when the wind is from the east, but I bet crappie could be caught in the submerged trees of the sheltered portion of this cove at most other times.
Biggest disappointments for the day? Carla's loss of a big fish (undetermined species) when it pulled loose from a white crankbait and Mom's loss of a whopper sand bass at the boat.
At the end of the day: Mom had successfully used lures for the fist time, Jared claimed "most fish", Carla claimed "biggest fish" and I got to clean them all.
It was worth it.
---
In this part of the country, usually by the end of September fish can live at all lake depths (shallow or deep). Water quality improves as the deeper areas become reoxygenated and water temperatures cool. When this occurs, you will no longer smell the rotten egg smell from waters being released at the dam. Fish activity improves, the sea gulls arrive and fishing gets better and better. - Paul Mauck, Oklahoma Department of Wildlife Conservation
---
Saturday, Oct. 4, Keystone,
water 66°, barometer steady, level normal, very slight breeze, showers, fishing slow
It was threatening rain, so Carla and I took our rain parkas on this trip to fish for striper or sandies. We found a lot of deep fish marks on the locator in the cove mouth near the rock jetty, but couldn't get a bite. We then fished up in the stumpy cove just south of the Cimarron. The shad were thick there along with the carp and gar, but no sandies.
The secluded cove had the feel of a wildlife estuary today. There were gulls squawking and fighting over shad, blue and white herons grouching loudly about our presence, several graceful pelicans and a bunch of the hated "water turkeys" that have shown up for the fall. The "water turkey" is actually a Double-Crested Cormorant which has just been taken off the wildlife protection list because of its booming comeback from near extinction. Fishermen hate the birds because they eat so much fish. These dark colored birds fly in big v-formations and sometimes cover a lake with their enormous numbers. It's said they can quickly decimate smaller impoundments. As I wasn't wearing a hat, I felt quite fortunate they weren't that thick in this cove.
Carla got a bonus from this trip. While fishing a white, medium depth crankbait, she caught a three and a half pound black bass that was lurking on the edge of the point in the far end of this cove. It fought her like a banshee all the way to the boat. A new record for Carla and a new photo for the diary. The bass was released.
As for myself...bring on tomorrow!
---
Sunday, Oct. 5, Keystone,
water 69°, barometer steady, level normal, murky, very slight breeze from the northeast, cloudy, fishing great
Kyle joined us today, simply because his Mom caught a big bass yesterday. So you know what we did for most of today. Look for bass. We went back to the cove where Carla had caught one yesterday, but found little to raise our optimism.
While there, a fisherman told us that he had caught a bunch of good sand bass earlier up in the far end of this cove.
We moved in and tried throwing spinners, but the fish were gone.
Today's fishing was looking gloomy. We moved south to the submerged road jetty. That's where I noticed gulls to the west diving in the far end of the main creek that runs along the old Mannford highway. We moved into the creek-arm where the birds were feeding and immediately got in the midst of the sand bass.
The cooler water has allowed the shad to stack into creeks such as this one where they feed on the thick algae, and in turn where they are being fed upon by sand bass...if you're lucky.
By moving back and forth along the south rocky bank of this creek, and by casting silver spoons, we caught around 20 or 30 fish, several of which were 2 pounds or more. Kyle and Carla were actually weighing their succeeding catches to see who had the largest. Kyle was giddy with success. He was by far catching the most and the largest, boasting of his success, all the while forgetting that he was using his Mama's ultralight rod and a silver spoon he had filched from my tackle box. He even had the gall to suggest that I should write in this diary of the large drum I caught.
About dark, what little wind that blew in this creek died down and the fishing slowly tapered down to where only small fish were being caught.
We reluctantly "called it a day" before it got dark and cold and we headed home to clean fish and recite tales of screaming ultralight drags and arching rods.
---
October 16, Beaver Lake, incredible trip
How many guys are this lucky. Not only do I have a wife that fishes, but on our tenth wedding anniversary she arranged for a guide to take us striper fishing at Beaver Lake in Arkansas. She even threw in a side trip to Bass Pro Shop to boot!
We left that store in Springfield on a cool, Wednesday evening with our pocketbooks considerably lighter and headed to our bed-and-breakfast at Eureka Springs, the little mountain tourist town where we had married ten years earlier. The next morning we purchased our licenses and killed time before driving to Beaver Lake dam where we would meet up with our striper guide, Joe Farkas. Joe, who later arrived by boat from a location up the lake, had quite a setup: a blue wave center console boat, propelled by a powerful 200 hp Yamaha 4-cycle. It was loaded with the latest electronic locator, a large shad tank, a set of electric downriggers and a trolling motor controlled by a wristband remote control. I had to ask about that last one, when I noticed the boat kept turning on its own.
Joe's ample sized boat soon had us on his hot location where he quickly set up shop. He put out a total of eight rods baited with shad. Two rods held trailing balloons 250 feet behind the boat; two were freelining 200 feet back, two were connected to side-planers, and the last two were tied to downriggers. You could tell he had done this many times and he skillfully pulled this setup through the water at a very slow crawl with the use of his electric troller.
Once the rods were out, there wasn't much to do but look at the fall foliage on the mountains, check the locator and talk. I asked him everything I could think of about striper fishing, and even though he answered everything to my satisfaction, I couldn't help but know that some things he just wouldn't divulge. Not that I blame him. Heck, we all have what we consider secrets too vital to publicize. I was surprised to find out that Joe catches all of his shad in Oklahoma at Grand Lake. It seems Beaver is too clear, and perhaps too cold, for shad. Shad thrive in murkier water and feed on the algae that also prosper in that type of condition. Therefore, Joe catches and keeps enough shad on hand at his house for numerous outings.
Time started to drag. After a couple of hours, I had about decided this might not be our day when suddenly one of the downrigger rods took a dive. I grabbed it and the fight was on. Nothing describes the feeling of how hard this fish fought. And while I held a sturdy rod spooled with 20 pound test line, I had to wonder of the possibilities of losing my first striper from Beaver Lake.
After what seemed an eternity, but was probably only minutes, I could see the big striper coming upward - unwillingly upward - through the clear water.
Joe quickly lipped the fish, pulled him onboard and I felt a rush of relief. The fish wasn't one of Beaver's famed monsters, but this was a beautiful "lineside". Carla shot a couple of pictures, then we weighed the fish - twelve and a half pounds.
We quickly proceeded. We were trolling in water that dropped 170 feet deep. The bottom held trees 60 feet tall. I'd heard that striper would hold in trees and asked our guide about this. Joe said that striper certainly did hold in trees at times, although not normally that deep, and if you did catch them in the trees, you couldn't pull them through the limbs. Joe said that he had caught striper on occasion as deep as 100 feet in open water, but at this time most striper were coming on downriggers set at 25 feet.
He was right about that! While Joe was putting out the re-baited downrigger that I caught my fish on, another fish grabbed the bait and took off on a long run.
This time it was Carla's turn.
We moved rods so that Carla could move to the back of the boat. She was holding ono her rod for dear life. At one point she exclaimed, "I don't know if I can do this!"
But do it, she did. She tugged and fought this fish to the boat, where Joe reached down and lipped the big silver and gold fish. A beauty! But only 12 pounds.
A whole half-pound short of my record striper.
I wondered though, "would that record hold through the day?"
The next few hours were slow and tedious. It wasn't hot, there was a breeze, but the sun was bright and our guide began to nod. But to his credit, he shortly decided to try another location while we still had time.
We moved to a cove and started our slow troll again. Another 45 minutes and we had trolled around a main point with no luck. And an ominous cloud bank was forming to the north. Joe reluctantly said that perhaps we should leave as the fishing had been slow to say the least for the last few hours and he really didn't want to try his luck against "mother nature".
I agreed. We pulled in the lines and Joe started the boat.
It was then that Joe saw the striper on the opposite shore due west of where we sat. He shouted, "Look! They're tearing up the top. Hang on!"
We zipped across the lake towards the cove, stopping when we got a few hundred yards away so as not to scare the fish, then began using the trolling motor to get closer.
An incredible sight. The surface of the cove was boiling in large areas with striper chasing bait. The loud slaps of these fish could be heard all around us. There were an incredible amount of what appeared to be large fish for hundreds of yards around.
Carla and I weren't the only ones excited. Joe said, "Man, I wish my wife was here to see this! This doesn't happen often." He started hopping around the boat, handing out rods and lures, adjusting the boat's position and trying to fish at the same time.
The fish hit anything thrown, but a silver jigging spoon was the most successful as Carla soon learned. I was throwing a top-water lure from the front of the boat, but having little luck. I'd see the fish rushing up to the lure and in the excitement I'd jerk too soon. I wasn't used to this clear water where you could see a fish rushing at the lure. Often the fish would hit three or four times before retreating or actually get hooked. And while I did hang numerous fish with top-water lures, I successfully boated only a couple, the rest pulling free to fight again.
These fish were all four pounds or more, and I saw Joe pull in several large hybrids - excluding several fish he handed off to Carla to battle.
Joe quickly showed Carla how to jig a silver spoon, reeling it in, letting it fall, then repeating that action all the way to the boat. She quickly caught on, and after crowding me from the front of the boat, caught several of her own. I've got to admit - she out-fished me on this schooling action. And she happily let me know it!
Schooling hybrid and striper moved up and down the bank just out from some boat docks, thrashing the cove for maybe thirty minutes before the dark brought a sudden end to all the fun. We could still hear splashes in the dark but the fish soon moved out to deeper water to digest their recent feast.
We were still pumped, but the fishing was over. Time to head home. It was pitch black on our return and starting to rain, but Joe, knowing the lake well, hurriedly got us back to the dam where we were all too happy to hand him his pay, shake hands and watch him move back out onto the dark lake; off to load his boat from another successful striper trip enjoyed by a very appreciative fisherman and fisherwoman.
The boys would kill to try their luck at Beaver Lake. One day they will.
---
Oct. 19, Keystone Lake,
muddy, water 69 degrees, up 2 feet, fishing slow
What a difference from just a few days ago! Beaver was clear to fifteen feet, Keystone is clear to 2 inches. Red, muddy water, as far south as the oil derrick; the rest of the lake murky. Fishing is impossible unless you get in the clearer backwaters or south of 51 highway.
I have a new, improved fish locator that Carla bought me, so a slow day was a good day to learn this new instrument. Hopefully the improvement will help us.
Kyle got to fish his style this weekend. After Carla caught one smallish striper while drift-trolling shad across the mouth of Salt Creek, we decided to throw crankbaits around the steep banks back in Salt Creek. Kyle promptly caught a small black bass, then a scrappy one that weighed two and a half pounds.
As Carla would say, "the boy was googly with delight." He'd caught his first bass on crankbaits! (He normally fishes plastic worms in the ponds)
Carla, on the other hand, busted her lucky white crankbait on the rocks! Kyle retrieved the the broken lure and its hooks for his own use. He also found another crankbait lying on the bank.
And I?
I caught zilch. Lost one little bass and that was it.
It was all Kyle today. Now, if he'd only quit trying to snag carp...
---
October 31, Skiatook, great fishing, water 65° and murky, wind from NW and a cool 58°, front approaching.
Halloween. It's Friday and I took a day of vacation to fish Skiatook.
Early this morning, a couple of fishermen unloading at the ramp almost sunk their boat when they failed to plug it.
I double checked my plug before putting in. Halloween, you know.
I had decided to fish a different method this trip. I usually fish Skiatook with artificials, but today I'm going with shiners, trolling them on downlines and with the intent of fishing the upper part of the lake instead of the usual lower half. The water has cooled considerably, most of the hybrids will have moved upstream.
Maybe.
I haven't quite mastered how to "think like a fish", much less "think like a hybrid"­ a fish that really doesn't know if it's a sand bass or a striper.
I started at the "hump". Rising just north of the highway 20 bridge and positioned between the main channel and a branching off creek, this hump sits about 24 feet deep at its high point. This is a favorite and well-known location to Skiatook hybrid hunters, but on this friday it was clear of fishermen.
While there I played with a planer board that I had built and made some final adjustments to my satisfaction. I'm not sure how a planer board works into my scheme, but I like to try new things.
After putting the new toy away, I made numerous slow passes over the hump with the electric trolling motor but marked no groups of fish, just a few solitaries.
I then headed north to Snake Island where I had heard that hybrids might be found. No snakes and no hungry hybrids, but I did mark large fish near the channel.
From there, I made my way back towards the south, stopping at a few likely spots but finding nothing.
Finally, I marked some big groups of bait and a few arcs, maybe a half-mile northwest of the highway 20 bridge. The bait was scattered on a 28 foot deep flat on the inside curve of the old main channel. I put out three downlines and started tossing a white bucktail. It took awhile, but I caught a 2 pound hybrid on the bucktail and a couple of smaller ones on bait.
Having short patience, I decided it was time to head to my usual fishing grounds on the lower end of this lake, but while slowing the boat to move past the "no wake" signs near the bridge, fish marks appeared on the locator. Small fish, but enough to entice me to move over to the nearby "hump" where the locator picked up some larger groups of arcs. I decided to anchor and try this spot again.
After rebaiting and lowering my downlines, I sat to wait near the front of the boat.
The fish were showing on the locator. Big arcs.
One of the rods doubled over.
I jumped for the rod as it looked darn close to snapping. In my haste I tripped on the seat and fell in the stern of the boat. I grabbed the rod and rolled backwards, falling into the seat. Flat on my back, struggling with a fish that was fast taking line, I started laughing, figuring that the nearby crappie fishermen under the bridge were watching me stumble all over the boat like a drunk.
The hybrid ended up being six pounds, my best yet, and the nearby fishermen hadn't even noticed my pratfalls. They were turned away from me and the cold wind.
In the next thirty minutes I caught 2 five pounders and several smaller ones before running out of bait. I just wish Carla or the boys had been there. Man those fish fight!
Funny how fishing wears me out. I was windburned, cold and hungry, but the last thirty minutes made it all worthwhile.
It's time to head for home and the hot-tub.
---
December 11, Keystone Dam, Fishing with Kyle and his buddy Morris.
It really came down last night. A heavy snow pushed by a hard, cold, north wind. Of course, school was canceled.
It might have been too miserable for school, but it wasn't too bad for fishing if you were lucky enough to be home for the day. Kyle got hold of his buddy Morris and they talked Morris's mom into driving them to Keystone Dam for a "real" afternoon of education, a chance to pit their smarts against that of the wily striper.
It was cold at the dam and no other fishermen were around. The two boys started fishing near the fence-line closest to the running turbines which is normally elbow-to-elbow with fishermen when the striper are on the bite. They soon found though, that the water near the turbines was too swift for their equipment and apparently devoid of fish, so they ended up just fiddling around the bank, looking for discards and the lost fishing tackle that always seems to collect around that area.
Later in the afternoon, they moved on down the sidewalk and started casually casting sassy shads in the slower current.
The fish had moved in! Kyle was using a new ultralight he had spooled with 4 pound test and soon had a fight on his hands with a hardy three-pound river striper that quickly peeled off line as it headed down the stream, instinctively using the strong current to its advantage. Kyle patiently gave ground until he was able to turn the tiring fish towards shore where it was successfully landed, admired by the two boys and put on a stringer.
Kyle then caught another striper almost identical to the first. A third fish proved too much to handle, even for this fast improving but still learning fisherman.
With these two striper and a large sand bass caught by Morris, they had more than enough fish for Morris's mom to prepare a fine meal that night. The boys had to hurry and clean'em and eat'em though. It was "early to bed" for school tomorrow.
---
12-31-03, Sooner Lake Discharge wind from south 58 degrees
New Year's Eve. One day left of the year to fish and I'd sure like for the boys to finish on a high note.
The guys online at the "Fishing Notebook" constantly brag about their trips to Sooner lake and the hybrids and saugeyes they catch at the electrical plant's hot water discharge during the winter months. If one believes everything these fellows say, it must be a magical place. And Lord knows, a fisherman never stretches the truth.
I've always wanted to take the boys ­Kyle and Jared­ to Sooner Lake. The only thing that has kept me from going is the 70 mile trip across northeast Oklahoma and the one mile walk I've heard you had to endure from the parking lot to the discharge.
Still, I love new adventures and a little walk never hurt this boy, so we left for Sooner around noon. Jared had just finished wrestling practice and Kyle had just returned from having his braces removed. It was a great day, not only because I'd made the last payment on those braces, but because the sun was shining and we were on the road.
Thanks to our online friends' advice, we found the parking lot easy enough upon our arrival. Finding the right trail from there was a little more confusing. Different trails seemed to head everywhere.
So we just headed north in the direction of the power plant and started up a hill.
No one online mentioned a hill
It wasn't a particularly steep hill, but it was a long grade that soon had me breathing hard.
I was soon thinking I shouldn't have brought such a heavy coat. Or the extra jacket I wore underneath. I also wondered why my tackle box weighed heavier than the usual 50 pounds of fishing necessities it contained. Later I would find, it was stuffed with water bottles and a flashlight someone stuck in there. Also, I should have had the sense to leave all those 3 ounce weights at home. Left in too big a hurry.
Ah, but the second half-mile walk was all downhill and you could see our goal.
I wouldn't say it was a really scenic area. A big concrete and metal power plant sitting next to a lake in the middle of a winter-browned, treeless, rolling prairie­but it was intriguing. I'd never fished around a hot-water discharge and wasn't quite sure what to expect.
The area did have a johnny-on-the-spot for fishermen's urgent needs. We also noticed with satisfaction, considerable splashing of small fish along the banks of the discharge channel. Just outside the channels mouth, hundreds of gulls were resting on the open water.
Looked pretty promising.
The warm water from the plant was shooting out of two concrete ducts, maybe 100 yards opposite the side of the channel where we stood on a dirt bank. There was quite a bit of current moving in this channel.
We started throwing lures.
No immediate hits.
We started changing lures, trying different colors, but again, nothing.
I noticed a couple of fishermen, a man and a woman, walk down the hill behind us. They appeared to be regulars who knew where they were going and had their tackle prepared. Minimal equipment.
Suddenly, the gulls who had been resting lazily outside the channel, went beserk. Squawking and fighting amongst themselves, the gulls were now hovering and diving on baitfish just down the channel from us.
We all moved towards the commotion.
The hybrids had moved in!
They were tearing up the water chasing their target, the shad. The small baitfish were being herded to the surface and actually knocked skyward by the vicious strike of the marauding 'brids. The hundreds of gulls hovering overhead were grabbing the stunned and fleeing baitfish as fast as they appeared at the surface.
I caught two hard-fighting hybrid from this melee, the biggest around three pounds. The fishermen that had joined us fared better, catching around eight or nine, the biggest probably five pounds.
White bucktail jigs (1/2 oz) and silver spoons seemed to be the ticket to hooking-up with the hybrid in the fairly clear water, but virtually any lure would work if it could be tossed far enough to reach the midst of the feeding frenzy.
As soon as it started, it ended. The hybrid went deep and the gulls departed to digest their most recent meal.
Kyle managed to catch two small hybrid after the initial battle, but the big school had moved on and who knew when they'd appear again.
Dusk fast approached, the fish continued to elude us and the air was turning cold.
It was an even harder trek back to the parking lot in the dark, but now I appreciated my coat, pullover and thick gloves.
Fortunately, we didn't try to keep any fish. I still had enough to carry.
This was a fun day and a good experience. Kyle enjoyed it more than Jared, but then Kyle caught a couple of fish. As for myself­I'd do it again, but quite honestly­ fishing from the comfort of a boat is a heck of a lot easier. It's just hard to find this kind of action, this time of year in this part of the state from a boat in an open lake.
All in all, it was a good way to end "this year of 2003."
---