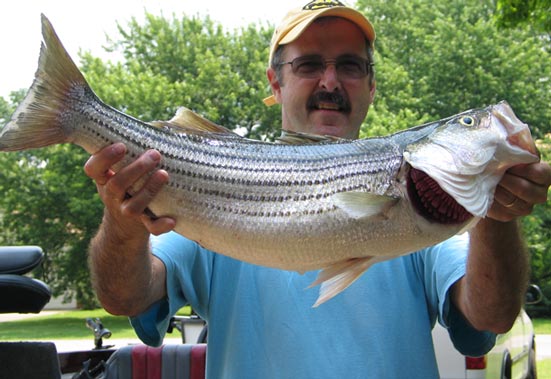 Keystone Stripers on a Rampage


Kyle, my oldest son, just groaned and refused to roll out of bed, so I ended up going fishing alone this fine morning.
Kyle missed out!
I made it to the lake around 9am, quickly found some jumbo shad in the nearby creek, then moved back out to the main lake where I set the boat up to drift across my favorite ledge.
Three downlines were set out at 24 to 27 feet, not deep enough to snag the top of the ledge I was crossing, but deep enough to reach to reach the levels I usually found the striper each year at this same time.
I'd no sooner floated passed the ledge when two of the rods bowed straight down into the water. Line started streaming off the reels in long spurts, the reel's drags squealing and complaining, but doing their job.
I grabbed the nearest rod and found myself wishing I had heavier tackle for this particular trip.
I had my hands full; the net was still stowed, the boat was drifting into shallow water, I had 2 nice fish on my lines and the other line was just now taking a hit!
Eventually, one fish broke off at the boat while I was trying to "lip" him, which was okay since I was planning to release the fish, but still, I was pleased to successfuly land the other striper.
9 lbs, 4 ounces. And I still had a little skin on my "landing" thumb.
Unfortunately, he'd been on the line for so long I didn't think the fish would live if released. Regretfully, I put him in the live well.
I baited up again and started back to the ledge, this time with a net handy.
Didn't make it. The striper had followed ME for once. I landed another #9 and then 4 or 5 five pounders, before the "bite" suddenly stopped and the fish retired to deeper water to await the next feeding frenzy.
I was tired and had a fish to clean.
But not too tired to call Kyle and tell him exactly what he'd missed.
Yeeeehaaaaaa!!!!
---