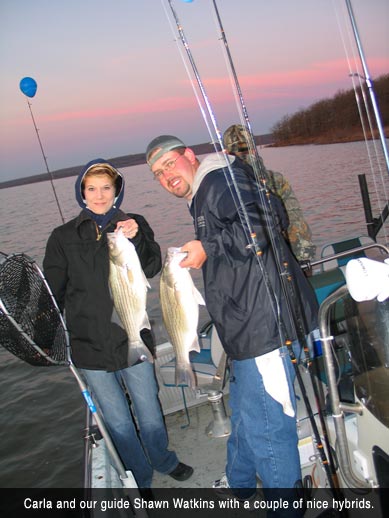 Skiatook Hybrid Birthday Bash
"It was dawn and Shawn had justed stopped the boat. He was lowering the first shad-baited line in the water, when the first hybrid of the day ripped the line from his fingers".
The action was on!
Carla had hired Shawn Watkins to give us a guided trip as a 50th birthday gift to old "Striper King" himself. Sarcasm aside, she meant me - Danny.
She knew I was ready for a Skiatook adventure. She also remembered that the last few times she'd gone with me, we'd caught nothing. She'd said before, "Danny, you're Skiatook fishing stinks." While I thought her views were a little harsh, my excuses of "I don't have a live-bait tank", didn't carry much water with Carla. She wanted to catch some good fish.
So she hired Shawn. It was supposed to be a secret, but I'd overheard them talking at the Oklahoma Striper Association meeting and figured I knew what was being planned. Carla can't keep a secret anyhow. Never has, never will. She likes giving gifts as much as I like fishing.
It was to be a great trip. We arrived at dawn and Shawn had us on the fish immediately. The early morning action was splendid and we took turns grabbing the bent rods. We shared an hour or so of really fine fishing before the hybrid seemingly quit feeding.
Shawn started the boat and we moved to try a few more of his favorite spots, which I mentally recorded of course, but Shawn quickly concluded that the fish hadn't moved to the deeper water he was checking and decided to return to our original area.
We promptly got into the hard-charging hybrid again. The fish were scattered shallow, but over deeper water. Shallow freelines were just the ticket for catching the hybrid today.
Our son Jared was lucky enough to catch the biggest hybrid of the trip - 6 pounds and a new personal best.
"I'm not losing THIS ONE," he exclaimed, as he fought the thrashing fish to the boat.
These fish weren't nibbling, they were grabbing the freelined shad and running on a mad tear.
We caught anywhere from 15 to 20 fish before midday arrived with a stiffening wind that finally forced our weary group back to shore.
The trip had been a lot of fun and offered us some great photos and shared memories.
Shaking hands with our guide, I solemnly promised Shawn that I'd stay off his hot-spots, but it's safe to say that Shawn has probably heard the truth about old Striper Dan.