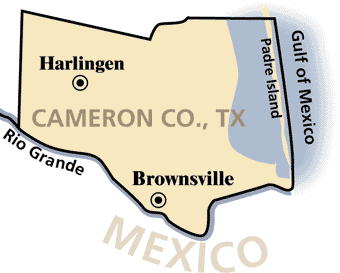 Dr. George Albert McBride and Mary Jett McBride (she was the daughter of Cyrus and Martha Norman), built a three-story home in 1895 at Fort Gibson that still stands today. Located at 709 North Garrison street, the renovated home remains much as it was when used for entertaining prominent citizens before the turn of the century.
After the death of Mary Jett's mother, the McBrides moved in 1914 to Harlingen, Texas, which is situated on the very southern tip of that state.
They left behind 2 known deceased children: Clyde McBride (1/1/1887-11/11/1888) and Ray McBride (1/14/1892-1/24/1895); both buried in the Fort Gibson (Cherokee National) cemetary which is 12 miles east of Fort Gibson on highway 62.
On the 1920 census, they had a 12 year old daughter named Alberta M. living in their Cameron county household. According to one source, she had been adopted.
Dr. George Albert McBride died May 24, 1938. Mary Jett died March 20, 1941. Her last residence was at 414 E. Van Buren in Harlingen as witnessed by Mrs. W. W. King on Mary's death certificate. They are both buried in the Restlawn cemetary in Harlingen.

(Some of the above information can be found in "Fort Gibson Area" published by the 2000 Fort Gibson Genealogical Society. Printed by ARC Press.)
---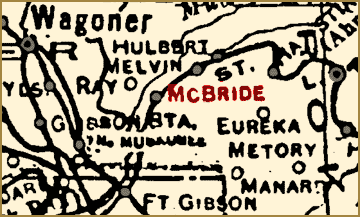 According to "Place Names In Oklahoma"; Mcbride, in western Cherokee County, 6 miles north of Fort Gibson, was a post office which existed from October 11, 1911 to April 30, 1936 and was named after Dr. George A. McBride, a long-time resident.
Dr. George Albert McBride was the son of W.D. McBride who operated the McBride Hotel in Muskogee around 1911.
William D. McBride was postmaster of Fort Gibson on June 9, 1894.
Children of William D. McBride on the 1911 census included two children at home: Voldine and Rowena as well as Connie, Marnie, and Marian Doyle.
The above family information was from "Fort Gibson, Gateway to the West" by C.W. West. published by Muskogee, Publ. Co., 1974.
---
­ August 24, 1883, Local News in the Cherokee Advocate.



G. A. McBride, the genial young gentlemen of Cane Hill*, Ark., who has resided at this place for more than a year leaves for his [Cane Hill] the first of next week to attend school at the college at that place.


(*Founded by Cumberland Presbyterians as Cane Hill School at Cane Hill, Arkansas, in 1834, the school closed in early 1891, and its successor, Arkansas Cumberland College, was established in Clarksville, Arkansas on September 1891.)
---
---
Indian Territory I.O.O.F. Odd Fellow Session 1910
Committee on Resolutions
Brown, C. P.
Brown, Ben
Human, J. M.
McBride, G. A.
Jenkins, C. C.
Ripley, G. W

---
See "Norman Genealogy"
for more information on McBride family
Dan's Home Page